Jun 13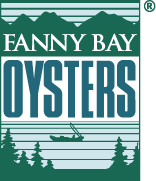 Fanny Bay x Copperypenny Distilling Summer 2023 Pop-Ups!
Fanny Bay X Copperpenny Distilling Sunday Oyster & Cocktail Pop Ups at Copperpenny in North Vancouver are back for the summer! June 18, July 23, Aug. 20 and Sept. 17 we will be shucking up premium oysters to pair with the incredible cocktails currated at Copperpenny with their world-renowned house distilled spirits.
We are also excited to be showcasing our new collaboration Oyster Shell 'No. 006 Gin' during this second-annual series of Oysters & Cocktails Pop-Ups at the North Vancouver distillery at 103-288 Esplanade East in the brewer's row area. The savoury, contemporary style gin balances foraged botanicals from the arid desert climes of BC's interior with the minerality and nutrient-rich excess of the BC coastline and conjures up flavours of lemon and Okanagan desert sage with a hint of umami and a briny finish – delicious in martinis and perfect for seafood pairings.
During the pop-ups, Fanny Bay shuckers will be on hand to serve up premium oyster varieties and seasonally inspired 'Shuckers' Choice' selections for $21 a half dozen or $36 a dozen per person, while the Copperpenny bar team offers a curated menu of gin-based libations created especially for each occasion starting at $17 per hand-crafted cocktail.