Where we farm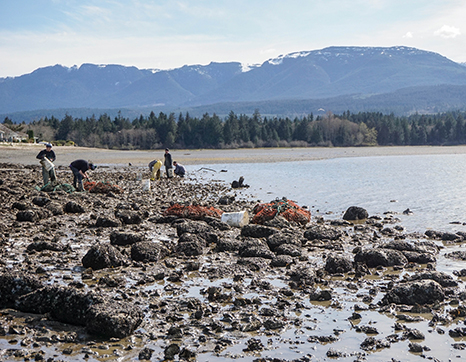 We have been growing oysters in Fanny Bay for over 30 years. Our farm sites can now be found throughout the cold, crisp waters of the British Columbia coastline. Ships Point, Berray Road, and Denman Island are our three main beach growing areas on Vancouver Island, where the ground is hard and rocky, and our oysters get a natural tumble with each winter storm. But we grow more than oysters. We also grow clams and mussels on our farms.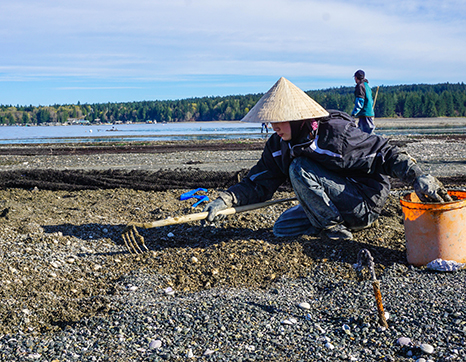 On the rocky bottom beaches of Fanny Bay, our manila clams thrive, growing beautifully coloured shells and savory meats, perfect for steaming at home. We seed all of our shellfish from our own hatcheries, making us a fully integrated farming process, and the largest shellfish producer in Canada.
At our original site in Fanny Bay we raise our young oysters in a unique raft and tray system that allows us to control the growth of the oysters before they hit the beach, ensuring a higher survival rate for our farms. Some of our oysters, called Golden Mantle, live in these trays their whole lives, making them a more delicate oyster with a sweeter complexity of flavors. Our rafts are also an asset in the summer months where we can lower our oysters into deeper, cooler water where the oysters won't be stressed by the summer sun.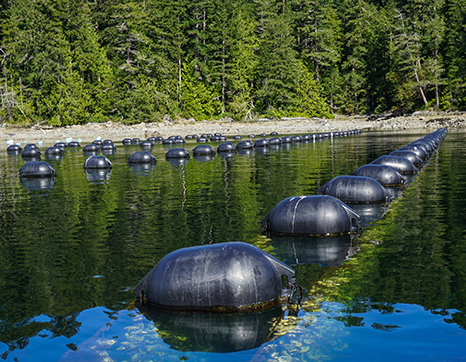 In the incredibly beautiful, isolated wilderness of the Desolation Sound and Okeover Inlet are home to a majority of our shucked oyster meat and all of our mussel production, as well as our floating upwell nursery system. These farms are all deep water long lines where we grow oysters on tubes, a technique not seen as often in North America. We continue to push our farmers to try new techniques of cultivation to build a better, more sustainable food source for the future.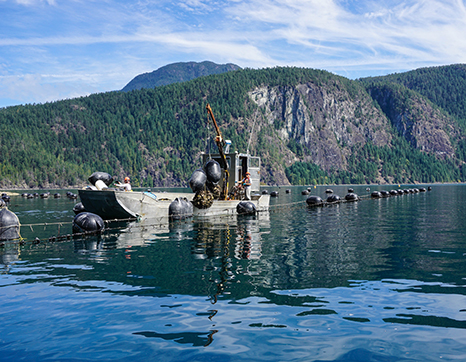 In 2007, we became part of the Taylor Shellfish Family of farms, a family with over 120 years of farming experience in the Puget Sound of Washington state. We are proud of the growth they have helped our company accomplish and the standards for industry they have helped us uphold. We will continue to evolve and innovate farming to accomplish the highest quality shellfish we can produce.