Jan 05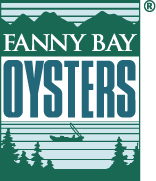 Oyster Rockefeller by Chef Shorthouse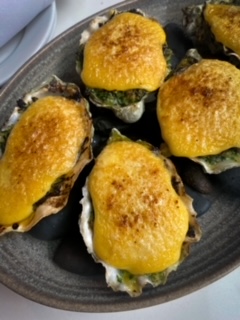 Jan. 10th is National Oyster Rockefeller Day! Celebrate with Chef Tommy Shorthouse's take on the classic.
Ingredients:
1doz Fanny Bay Small or Medium size oysters in shell
Topping:
Celery X 1 stalk (diced small)
Shallots X 2 large shallots (diced small)
Fennel X 1/3rd of a bulb (diced small)
Garlic X 3 cloves (diced small)
Spinach X 2 cups
White wine X 1oz
Butter X 1 TBSP
Olive oil X 2 TBSP
Salt & pepper
Juice from half a lemon & the zest
Hollandaise Sauce:
Egg yolks X 3
Clarified butter X 1 cup
White wine vinegar X 1/2 TBSP
Tabasco
Worcestershire sauce
Juice from half of a lemon
Salt
Old Bay Seasoning
INSTRUCTIONS:
-In a pan add butter and olive oil on medium heat
-Add small diced fennel, celery, garlic, and shallots and cook until tender
-Add the white wine and reduce until nearly evaporated
-Season with a pinch of salt, pepper, lemon & it's zest then remove from heat to cool
-Bring a pot of water to simmer and blanch your spinach for 5-7 seconds, then immediately remove and ice to stop the cooking
-Remove spinach from ice water, drain off all of the liquid
-Transfer the spinach and cooled fennel/celery mixture into a food processor and blitz until finely chopped.
-Shuck your oysters and place them on a baking sheet in the shell (use crumpled tin foil or rock salt to hold them up and prevent them from tipping)
-Spread your mixture evenly across the top of the oysters and bake them at 375F for 12mins or until bubbling
-While the oysters are baking, making your hollandaise sauce
-In a medium metal bowl ad the egg yolks and vinegar (whisk over a simmering pot of water, be careful not to scramble the eggs, mixture should become a thick-ribbony consistency)
-Continue whisking while slowly adding in the warmed clarified butter
-Season with a pinch of salt, a few dashes of Worcestershire sauce, Tobasco, and fresh lemon juice
-Remove oysters from the oven and top with your hollandaise sauce and sprinkle some Old Bay Seasoning on top before serving
-Pro-tip if you have a kitchen torch you can also lightly torch the top of the Rockefeller!