Jun 15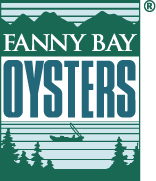 BBQ Oysters
Ingrediants:
- 2doz Live Medium Fanny Bay Oysters (Can be purchased fresh at our Seafood Shop on Vancouver Island or Shellfish Market in Vancouver)
- 1 lemon (juiced)
- 1 small stick of butter (soft/room temp)
- 2 tablespoons ketchup
- 2 tablespoons mustard
- 1 tablespoon honey
- 2 teaspoons Tabasco
- 2 teaspoons garlic powder
- 1 teaspoon cayenne pepper
What to do:
- Make sure oysters are kept cool until ready to shuck, under a cool damp cloth in your fridge or iced cooler.
- Mix all the ingrediants together in a bowl and mix until combined completely.
- Heat your grill to around 375-400F.
- Shuck the oysters, leaving the meat in the bottom shell (clear the bottom muscle to avoid the oyster getting stuck in the shell).
- Put a small spoonful of sauce onto each oyster (it will melt more across the oyster as it cooks).
- Put the oysters on the heated grill for 8-10mins or until lightly firm.
- Serve to friends and family, but be careful as the shells are HOT!